---
---
My good friend Kathy, over at The Junk Drawer, has just honored me with a very special award.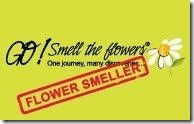 GO! Smell the Flowers is an awesome community of 20 bloggers from all over the world who share inspirational and enlightening stories and encourage others to do the same. Watch the video to learn more! This wonderful group created the prestigious Flower Smeller award, which Kathy received from the talented Mr. Grudge. She then passed the award along to me, Cardiogirl of Cardiogirl: 19% Body Fat 100% Fun, and Dan of Dan's Blah Blah Blog. Kathy also awarded her niece, Regan, whose hilarious comments prove that humor runs in the family.
I am thrilled to receive this award and to pass it along to three very deserving Flower Smellers. They are:
Canucklehead

. The name alone makes me laugh. The blog makes me cry—with joy and awe at some of the things Canucklehead comes up with. The blog began with "little more than a lonely man, a case of beer, and a Sunday afternoon." Oh, readers. Canucklehead is now so much more. Go read some of his posts. The man had lunch with Tommy Chong, for crying out loud!

Fracas

. The blogger with a heart of gold is so prolific she can't contain all her thoughts in one blog. So, lucky readers also get a more R-rated Fracas. Choose your favorite. You can't go wrong either way.

Random Blog

. Mmmm. Delicious randomness. This can be a tricky approach to blogging. Too much randomness can be a big mess. But Corrina gets it just right. She proves that randomness = funny-ness and shares her random observations with wit and style. Random on, Corrina!
But wait!
Apparently there's more love to be spread around. And who better to do the spreading than the one and only Lord Likely!
I was astonished and thrilled to receive Lord Likely's special Valentine's Day award, along with, in his words, some other "fine fillies": Nurse Myra; Claire; Chelle, The Offended Blogger; Dame Beenzzz; Diane Aldred from Much of Muchness; Paula; Valerie Morrison; and Lady Terri.
As if Likely in Love wasn't enough of a Valentine. Thank you, my Lord!
11

Comments
---